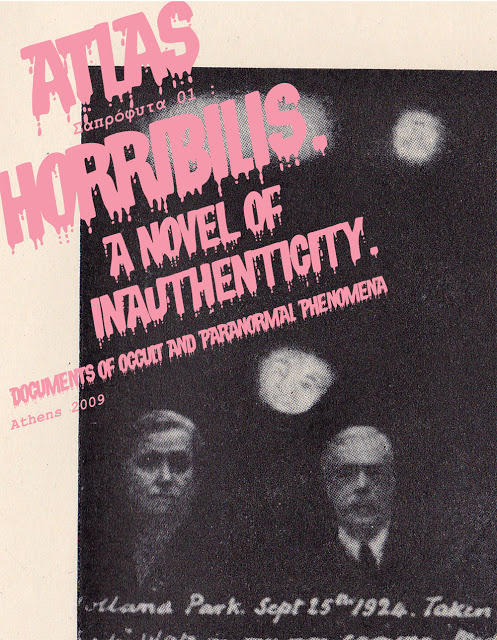 E-shop
Saprophytes, Nadja Argyropoulou, Marina Vranopoulou, Yannis Kouroudis, Malvina Panagiotidi, Yasemi Perou, Yorgos Tzirtzilakis, Aris Tsoutsas, Labrakis Press S.A., 2009
Atlas Horribilis. Α Novel of Inauthenticity. Documents of Occult and Paranormal Phenomena. Αθήνα, 2009
Saprophytes is a collective artistic project that focuses on finding, processing and assembling pre-existing material which is in a state of conceptual decay or disparagement. The "byproducts of this activity" are intended to form a visual pastiche and a new narrative framework, to multiply misreadings and recombinations.
Saprophytes 01: Atlas Horribilis. Documents of Occult and Paranormal Phenomena proposes a new narrative form—the "novel of the inauthentic"—comprising a non-linear montage of findings, reproductions and documentary material. It includes cut outs from books, newspaper and magazine articles, details of news stories and comics, museum material and amateur photographs relating to a series of uncanny, occult, terrifying, paranormal phenomena. This comprehensive and 'accidental' collection is drawn exclusively from local sources, a fact which accentuates the local cultural framework of the mediascape.
Such an evolving novel of inauthentic reproductions, explores suppressed social and cultural incidents and the languages of re-enactment and their functions; it stakes a claim to a middle ground between documentation and new narrative devices. Among the salient features of this exploration are the means by which the assembly of material keeps sliding off the real physical space of the page and into the fantasy world of discontinuous narration, offering a number of indications: a fluid narrative archipelago rather than definitive readings or interpretations.
The members of the Saprophytes 01 project are Nadja Argyropoulou, Marina Vranopoulou, Yannis Kouroudis, Malvina Panagiotidi, Yasemi Perou, Yorgos Tzirtzilakis, Aris Tsoutsas.
Saprophytes 01:Atlas Horribilis.Documents of Occult and Paranormal Phenomena is powered by DESTE and sponsored by Labrakis Press S.A.